Stellar Spectra: Nanna Debois Buhl
–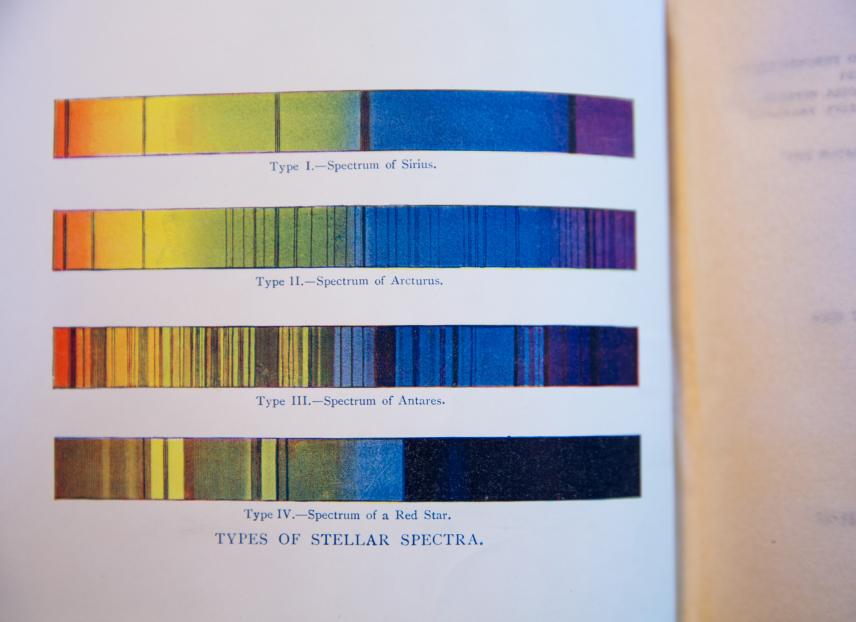 In photographic depictions of the sky, speculation about cosmic space meets with technological innovation and visual experimentation. We could even think of such depictions as maps of the future. Nanna Debois Buhl's solo-exhibition Stellar Spectra presents two new installations which reflect on how early photography and computing have shaped our understanding of cosmic space and our place in the universe.
The works in the exhibition take as their outset the 19th-century astro-photographic work by the British astronomers Margaret Huggins and Annie Maunder. Huggins was a pioneer within astrophysics and Maunder was employed at the Royal Observatory in Greenwich as a so-called human computer where she specialized in solar photography.
Interweaving photographs of sunspots and solar eclipses, the installation A Human Computer shows how the notion 'computer' goes much further back than we tend to think, and points to how the relation between human and computer has changed across time. In the video-installation Stellar Spectra Buhl uses astrophysical photography as a prism through which to consider the mechanisms that render things visible or invisible, known or unknown.
Can we become more attentive to the complexities of history if we look at the work and people that were omitted in traditional histories of astronomy and space travel? Can we reconsider the relationships between the analog and the digital? And can this allow us to imagine different futures?
Through photography, film, and text the exhibition ponders such questions.
About the artist:
Nanna Debois Buhl (b. 1975) is a visual artist. She received her M.F.A. from The Royal Danish Academy of Fine Arts (2006) and participated in The Whitney Museum's Independent Study Program, New York (2008-09). Her work materialize as photographs, installations, films, and artist's books. Often unfolded in a process based on research and visual experimentation. Buhl lives and works in Copenhagen, Denmark and is currently a PhD-fellow in artistic practice at The Royal Danish Academy of Fine Arts and Copenhagen University. In her PhD-project Sky Studies: Cosmic Code, Images, and Imaginaries she studies explorations of space across astronomical, computational, aesthetic, and futurological realms. The exhibition is a part of her PhD-project.
Buhl's work has been shown at institutions such as the Pérez Art Museum, FL; SculptureCenter, NY; The Studio Museum, Harlem, NY; El Museo del Barrio, NY; Bucharest Biennial 7, RO; MSU Museum of Contemporary Art, Croatia, Hasselblad Foundation and Lunds Konsthall, SE; Kunsthal Charlottenborg; Kunsthallen Brandts og Herning Museum of Contemporary Art, Danmark. She is represented in collections such as Louisiana Museum of Modern Art; ARKEN Museum of Modern Art; the National Museum of Photography; and Museum for Contemporary Art, Roskilde, DK.
The exhibition is made possible with support from: Copenhagen City, The Danish Arts Council, DGI Byen, The Danish Union of Journalists.